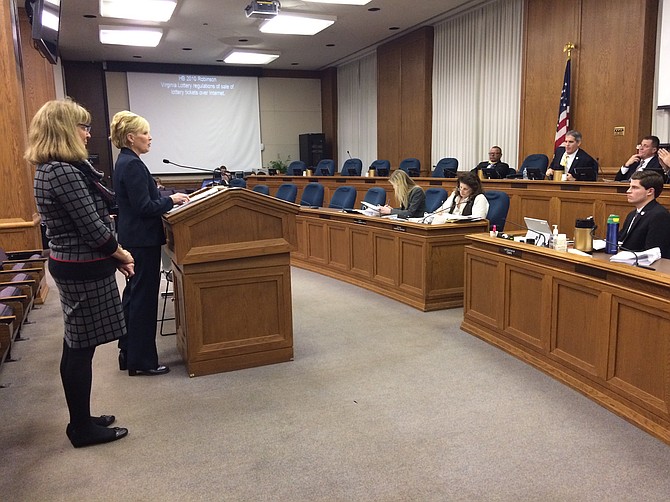 A coalition of convenience store owners and religious conservatives worked to undermine a bill from the Virginia Lottery to allow for online gambling, thwarting an effort aimed at increasing sales among millennial gamblers. The bill, introduced by Del. Roxann Robinson (R-27), was defeated with an overwhelming vote by a House General Laws subcommittee Tuesday afternoon.
"The commonwealth is always looking for additional funding for K-12 dollars," said Roberts, who represents Chesterfield County. "And so the Lottery has come up with this idea to allow same-day ticket sales of the large games, Powerball and Mega Millions."
Three other states already have the kind of online gambling that leaders at the Virginia Lottery were pushing. And revenue estimates show that allowing online gambling would be a potential windfall, adding about $3 million to education funding the first year alone. In the first five years, according to state officials, it could have added about $25 million to the education budget. But members of the subcommittee rejected the bill after overwhelming opposition.
"It's bad for business," said Chuck Duvall, lobbyist representing 7-Eleven. "Customers don't just buy lottery tickets. They buy cigarettes. They buy soft drinks. And sometimes they buy beer. And all of those are higher markup items than the lottery ticket. So if we don't have that body in the door, we are probably not going to sell those other products."
LOTTERY OFFICIALS tried to cut a deal by offering brick-and-mortar retailers exclusive rights to sell daily games like Pick Three and Pick Four, which represent 30 percent of lottery business in Virginia. They also told members of the committee that online gambling has the ability to limit the amount of money spent gambling that would be impossible to implement at a brick-and-mortar store.
"We think it's more responsible to have more players spending a few dollars instead of the same players spending more," said Paula Otto, executive director of the Virginia Lottery. "We are so confident that if we can do more on the internet it will not hurt the brick-and-mortar retailers that one of our ideas is to guarantee to them that they will continue to grow."
Religious conservatives raised concerns about the possibility of hacking.
"I'm still concerned about verification online," said Eddie Aliff, director of the Virginia Assembly of Independent Baptists. "Kids are smart, and I just don't know how you are going to do that."
Convenience store owners raised concerns about the economic consequences of changing the rules.
"We've come to depend on the lottery customers coming in regularly and buying other items as well," said Charlie Parker of Parker Oil in South Hill. "Despite all the assurances, I and many other retailers really feel strongly concerned about maintaining commission sales and incidental sales other than lottery tickets."
ULTIMATELY, MEMBERS of the committee opted for the status quo, denying the lottery officials the online marketing they hoped would infuse their business with millennial gamblers. All the subcommittee members except Roberts, who introduced the bill, voted in favor of laying it "on the table," essentially killing the bill. The quick and certain annihilation of the bill represented a victory for the coalition of convenience stores and religious conservatives that conspired to kill the legislation.
"The bill that's before you takes the authority for selling lottery tickets out of this building and sends it over to an unelected Lottery Board," said Mike O'Connor, president and CEO of the Virginia Petroleum Convenience and Grocery Association. "We don't think that's appropriate."