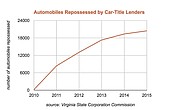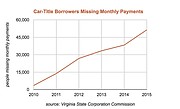 http://ideastations…">Car-Title Loans: Last year, two of the three biggest car-title lenders cut a deal with the Senate Democratic leader to avoid additional regulations. Part of the arrangement included state regulators withdrawing the ability of car-title lenders to offer other kinds of loans at the same location, which many lawmakers considered a bait-and-switch operation. Regulators said they didn't have the authority to do that, so lawmakers may take action to limit car-title lenders to car-title loans. The Virginia Supreme Court is also considering a case that could open up the books to show how many loans individual businesses are making and how many cars they are repossessing.
http://ideastations…">Open-End Line of Credit Loans: These were originally created so consumers could purchase appliances from department stores, but they have now become a favorite product by former payday lenders that don't want to deal with all the regulations lawmakers created for the industry. They are almost completely unregulated. State regulators don't track them. Lenders don't need a license to offer them. There's no limit on the interest rates they can charge. Lawmakers will be considering an effort to make these loans subject to the same restrictions as payday loans and car-title loans.
http://ideastations…">Internet Loans: They may be technically illegal in Virginia, but that doesn't mean that businesses aren't eager to offer people who live here loans at up to 900 percent interest. Last year, a company known as OneMain persuaded Del. Terry Kilgore (R-1), chairman of the Commerce and Labor Committee, to introduce legislation legalizing internet lending. That bill failed, but more may be on the way this year.
At this time last year, members of the General Assembly were feeling the heat about car-title lending. Public outrage was growing about the industry, which charges interest rates in excess of 200 percent in some of the poorest neighborhoods in Northern Virginia. Lawmakers were particularly concerned that car-title lenders were evading the regulations they put in place to protect consumers by offering more than one kind of loan at their storefront locations, a move many members of the General Assembly considered a bait-and-switch operation.
Behind the scenes, car-title lenders were taking action to head off efforts to crack down on their industry.
In the week before the General Assembly session began, title lenders gave $35,000 in campaign contributions even though the campaign for General Assembly seats had ended the previous November. Like many businesses, title lenders make a habit of making campaign contributions after the election and before the session, during which they are prohibited from giving. The donations are not reported until after the session, so following the money isn't really a possibly during the flurry of action in Richmond.
"They serve a very useful purpose for the business because it reminds people right at the start of the session who their friends are," said Stephen Farnsworth, political science professor at the University of Mary Washington. "The coalition of people to block regulation may include some Democrats and some Republicans, and that's why they are equal opportunity givers. Some money goes to Democrats and some goes to Republicans."
Take, for example, the $15,000 contribution LoanMax gave to the Senate Democratic Caucus the day before the session began. A few days later, the Senate Democratic leader brokered a deal that involved two of the state's leading title lenders voluntarily agreeing to stop offering multiple kinds of loans at their storefront locations. That deal ended up torpedoing all the reform bills.
"It's impossible to say that there was a quid pro quo. I mean, you just can't say that," said Quentin Kidd, a professor at Christopher Newport University. "But it is possible to say that there was an effort on LoanMax's part to gain access to elected officials so that their case could be heard."
Senate Democratic Leader Dick Saslaw, the senior member of the Fairfax County delegation in the state Senate, is the one who negotiated the deal involving a voluntary agreement with two of the three title lenders authorized to offer consumer finance loans. LoanMax was not part of that deal, even though it had dual license authority at the time. Saslaw says LoanMax isn't the problem.
"LoanMax doesn't do that business," says Saslaw. "They don't do it in the same facility. They're the ones that called and alerted me to what was going on."
According to public documents from the State Corporation Commission, LoanMax had dual licensing authority to offer car-title loans as well as consumer finance loans at its Alexandria location on Mount Vernon Avenue in the Arlandria neighborhood.
The commission also has documents that show how many loans made last year — including what kind of loans — as well as how many automobiles the company repossessed. But regulators don't want to hand over those documents. And Saslaw isn't in the mood to answer questions about his involvement in the deal.
"They don't do it," he said when asked about LoanMax. "End of discussion."
THE DISCUSSION ABOUT car-title lending may not be over yet though. After Saslaw cut the deal with industry leaders, he and state Sen. Frank Wagner (R-7) sent a letter to the State Corporation Commission asking "your assistance in removing dual business authority for title, payday or open-end lending companies operating at the same location."
Regulators say they don't have authority to revoke the ability of car-title lenders to offer more than one kind of loan without the General Assembly taking action. That means the concern lawmakers raised last year about bait-and-switch has yet to be resolved. And documents from the State Corporation Commission show that five car-title lenders are currently offering car-title loans in addition to a separate unregulated loans.
"Rather than leave it to the SCC to figure out, we're just going to put in legislation to make sure they can offer one product or the other but they can't offer both at the same location," said Wagner.
Bait and Switch
Car-title lenders that currently offer open-end lines of credit loans:
Advance America Cash Advance Centers
Cash-2-U Title Loans
Check into Cash
The Loan Store
Consumer-finance lenders that currently offer open-end lines of credit loans:
AIV CL
CIC Financial Services
EZ Consumer Loans
One Main Financial of America
Virginia Auto Loans
Source: State Corporation Commission Bureau of Financial Institutions
At issue is an obscure lending product known as an open-end line of credit, a kind of loan originally created to help people buy appliances from department stores Lenders don't need a license to offer them. Regulators don't track them. There's no limit on the interest rates they can charge, and there's no limit to how many loans borrowers can take at a time. Former payday lenders moved into this sphere after tough new rules were created for their industry several years ago, and car-title lenders are offering these on the side when the rules around their industry get in the way.
"We get some people who say well I thought they weren't able to do this thing or that thing or something else that would be under a regulated product like payday loans," said Dana Wiggins, who answers the predatory lending hotline at the Virginia Poverty Law Center. "And we have to tell them that just isn't the case. They are not regulated by the state."
MEANWHILE, THE VIRGINIA SUPREME COURT is considering a case that could open up a treasure trove of information about the industry — how many consumer-finance loans LoanMax makes or how many cars TitleMax repossesses, for example. The lawsuit was filed by the Center for Public Integrity, which asked for documents car-title lenders filed with regulators. The Virginia State Corporation Commission sided with the industry, deciding to keep the documents secret. The case is now on its way to the Virginia Supreme Court, and state Sen. Scott Surovell (D-36) is representing the Center for Public Integrity.
"You know the law is the law, and if the law says you have to release the records you've got to release the records," said Surovell. "I've never heard of a court before saying I'm not going to interpret the statute. I'm just going to call up the legislature and ask them to make a decision so I don't have to make a decision."