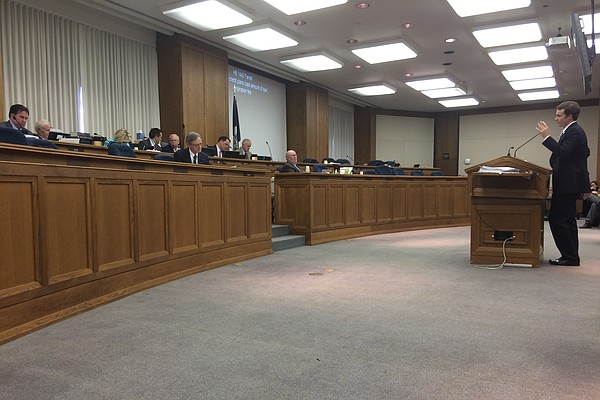 Tuesday, February 21, 2017
The growing chorus of criticism about predatory lending in Virginia may not have prompted lawmakers to start passing laws to crack down on the industry. But it has accomplished one thing, formation of a work group.
"In this town, if you are in the minority party in a chamber that's two-thirds Republican, you take victories where you can," said Del. Mark Keam (D-35). "I'd like to think something good can come out of this if we can bring stakeholders together."
Lawmakers are concerned about several aspects of high-interest loans. One is the bait-and-switch nature of many of the businesses, where customers walk into a car-title business but walk out with an open-end line of credit instead. Another issue is the completely unregulated nature of open-end lines of credit, originally created for department stores but now used by car-title lenders and internet lenders. Regulators don't track them, and lenders don't need a license to offer them. Recent years have seen online lenders from around the world offer them with interest rates of up to 5,000 percent.
"If the work group doesn't deal with the open-end loans, it'll be a waste of time," said Jay Speer, executive director of the Virginia Poverty Law Center. "You can make rules about the Consumer Finance Act, and then all the internet lenders will just switch to open-end loans and it'll all just be a waste of time."
WORKING GROUPS are a common way for lawmakers to punt, essentially putting off making decisions and outsourcing solutions to a panel that makes recommendations. Sometimes the groups end up making recommendations that are adopted by the General Assembly. Recent years have seen successful working groups that made significant changes to energy policy and worker's compensation. Many lawmakers view them as an ideal way to consider difficult issues outside of the frenzied pace of the General Assembly sessions.
"There are what I believe to be plus sides to being a part-time legislature, and there are downsides to being a part-time legislature. One of the downsides is you can't keep working during one session in a short session," said Del. Peter Farrell (R-56). "Sometimes it takes a year."
For critics of predatory lending, the chief goal of the working group will be to regulate open-end lines of credit. These have become the tool of choice for car-title lenders and internet lenders to offer unlimited amounts of interest. And lawmakers don't know the scale of the problem because state regulators don't track them. That's a problem that critics say has an easy fix — require a license to offer open-end lines of credit, and make them abide by the same rules as car-title lenders or payday lenders.
"I hope that we see a path forward for all lenders to be licensed," said Dana Wiggins, who answers the Predatory Lending Hotline at the Virginia Poverty Law Center. "If they're operating in the state of Virginia, they should all be licensed and they should all have to follow the same rules."
THE SHADOWY WORLD of internet lending is also in the crosshairs of the work group. Some companies offer loans at interest rates from 600 percent to 5,000 percent. Some of these companies try to get around laws designed to protect consumers by claiming to have affiliations with Indian tribes, allowing them to take advantage of uncertainty surrounding a law from 1918 — long before the World Wide Web revolutionized modern American finance. Last month, Attorney General Mark Herring helped secure a $15 million settlement against a California-based company that fraudulently claimed a relationship to a North Dakota tribe to evade Virginia lending laws.
"In the absence of action, the internet becomes a lawless place that plays by different rules than traditional commerce," said Kevin Mauer, associate director of the Virginia Catholic Conference. "Without protective regulation, the commonwealth's vulnerable consumers may fall prey to more and more opportunistic lenders."