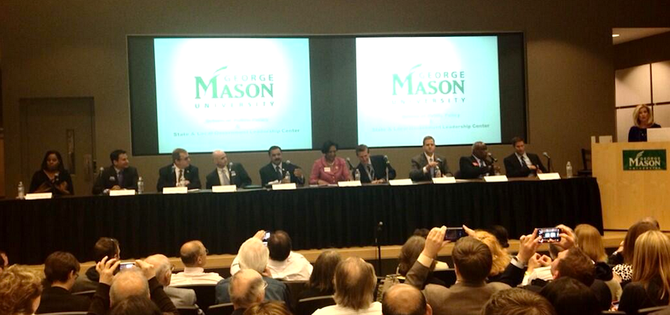 Candidates in the Democratic primary for Congress have a wide range of views on animal rights, an issue that has become one of the defining legacies of retiring U.S. Rep. Jim Moran (D-8). During his years in office, Moran has worked to require detailed labeling of fur garments and ban the sale of "animal crush videos." He's also supported efforts to improve animal care standards on farms and worked with the U.S. Department of Agriculture to enforcement of humane slaughter requirements. Now that he's stepping down, though, advocates for animal rights may be losing one of their key supporters.
"To a certain degree, I imagine that most candidates running for office want to be their own person," said Geoff Skelley, analyst with the University of Virginia Center for Politics. "But I think you could probably put animal rights supporters who make that a priority issue in the same wing of the party as environmentalists, and so this is not the kind of issue candidates can ignore."
When asked about his position on animal rights, former Lt. Gov. Don Beyer said he was a fan of the 1975 book "Animal Liberation" by Australian philosopher Peter Singer, which argues against discrimination based on species. Since launching his campaign for Congress, Beyer has called on supporters to join a petition started by U.S. Rep. Peter DeFazio (D-Ore.) urging the U.S. Fish and Wildlife Service to withdraw its plan to weaken Endangered Species Act protections for gray wolves.
"I continue to be strongly concerned about animal testing, especially as you move up the chain with dogs and cats and rabbits. It's just not right to put them through pain and torture just for human testing," said Beyer. "And I've already promised Jim Moran that if I win, I will join the animal rights caucus."
WHEN ASKED ABOUT animal rights, several candidates were not so sure whether they would join the caucus or not. Former Urban League of Northern Virginia president Lavern Chatman said she would ask for Moran about advice as to which caucuses she would join other than the Congressional Black Caucus. Alexandria Planning Commissioner Derek Hyra said he had no plans to join the Congressional Animal Protection Caucus.
"I probably would set my sights on other issues," said Hyra. "I would absolutely support a caucus like that. I don't know if I would necessarily be the best candidate to join that caucus."
Several candidates said they were proud that Moran had developed such a strong portfolio on the issue, and they hoped to continue his work although they didn't have any plans to pursue specific legislation. Del. Charniele Herring (D-46), for example, said she admires Moran's recent efforts to limit the use of exotic circus animals. But she said she had no specific agenda on animal rights at this point in the campaign. Alexandria Mayor Bill Euille said he supports Moran's efforts, although it's not an issue he's focused on. State Sen. Adam Ebbin (D-30) said he wants to continue Moran's existing legislative agenda on animal rights.
"I've talked with Jim about the need to preserve the gray wolf and his work on labeling fur," said Ebbin. "But one of the things that we've got to do is follow through on Jim's legislation to make sure that chickens, when they are processed, are not boiled alive, which is not just a animal rights issue but is also a health issue."
TWO OF THE CANDIDATES pledged that if elected they would go after puppy mills, commercial dog breeding operations, that have been strongly criticized by animal rights supporters. That could be significant in the next Congress, when legislators might consider proposed regulations allowing puppy mills to sell dogs over the Internet.
"I'd like to shut the puppy mills down, frankly," said Hope. "A bill that's passed in a couple of states is devocalization of cats and dogs. I'd like to ban that practice outright."
During last year's campaign, Mark Levine said he wrote an op-ed criticizing attorney general candidate Sen. Mark Obenshain (R-26) for his stand against regulating or banning puppy mills. If elected, he said, he would crack down on the industry.
"I wrote an article that said if you hate puppies, here's your your candidate," said Levine. "They put them in cages, like, one on top of another, which is awful."
LAST WEEKEND, animal rights supporters rallied at the Capitol against breed-specific legislation targeting. For example, Prince George's County bans residents from owning pit bulls. Many animal rights advocates say breed specific laws are difficult to enforce and that no evidence exists to prove that they make communities any safer. When asked about breed-specific legislation, only one candidate — former Navy pilot Bruce Shuttleworth — said he opposed efforts to target pit bulls.
"Some of the nicest dogs I've ever met have been pit bulls," said Shuttleworth. "If a pit bull becomes less nice, it's probably because of the environment, and there's no reason we should be prejudiced against any animal breed."
One candidate said he supports breed-specific legislation.
"I think pit bulls are cruel," said businessman Satish Korpe. "They are a danger to society many times if they are not controlled."