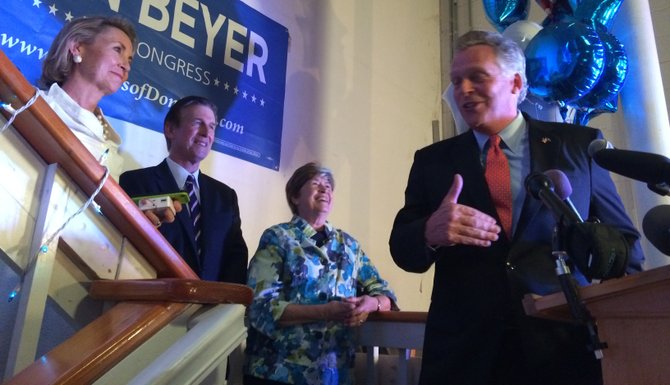 Results
Don Beyer: 45.76 percent
Patrick Hope: 18.25 percent
Adam Ebbin: 13.55 percent
Bill Euille: 8.37 percent
Mark Levine: 6.73 percent
Lavern Chatman: 5.45 percent
Derek Hyra: 1.23 percent
When asked about animals rights, former Lt. Gov. Don Beyer quotes author Peter Singer. He describes his wife as the "sine qua non" of his life. During his victory speech in the hotly contested Democratic primary to replace longtime U.S. Rep. Jim Moran (D-8), he quoted St. Augustine and Winston Churchill. He reads widely and has five policy proposals for every issue before Congress.
"I've loved this campaign — the volunteers, the staff, all the thoughtful and challenging voters," Beyer told a throng of cheering supporters at the Alexandria Seaport Foundation Tuesday night. "But what I've liked best has been the opportunity to talk with great optimism about the way forward."
Beyer raised more than a million dollars since announcing his campaign in January, far more than any of his competitors in a crowded field of candidates. At one point, 13 people were seeking the nomination. By the time the ballots were printed, the list of candidates had whittled down to 10. On election day, seven candidates were vying for the nomination. In the end, Beyer's real competition was progressive Arlington Del. Patrick Hope (D-44), who won 18 percent of the vote.
"Patrick is the heir apparent," said Ben Tribbett, campaign manager for the Hope campaign. "No one knows how long Don is going to be in Congress, and so the real fight among the candidates was for the candidate to set themselves up to the next generation of leadership in the district."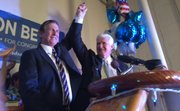 THE DISTRICT is overwhelmingly Democratic. Back in 2012, for example, 68 percent of voters in the 8th Congressional District voted for incumbent Democratic President Barack Obama. That means Beyer is likely to be the candidate to emerge victorious in November. Moran stayed out of the race, repeatedly declining to endorse a candidate. But he made an appearance at the Beyer victory party and congratulated the former lieutenant governor on his victory.
"He's the leader Northern Virginia needs in Congress," said Moran, who won the seat in 1990 by ousting incumbent Republican Stan Parris. "I'll be proud to be his constituent."
Beyer was widely expected to win the primary based on his deep experience in Virginia politics and his fundraising ability. He made a name for himself in Northern Virginia as a Volvo dealer before entering politics in the late 1980s. He served as lieutenant governor from 1990 to 1998, and he ran an unsuccessful gubernatorial campaign in 1997 against Republican Jim Gilmore. He later served as chairman of the American International Automobile Dealers Association and the ambassador to Switzerland and Liechtenstein. For many people, the real anticipation in the race was whether or not Beyer would be able to win with more than 50 percent of the vote — a feat that he narrowly missed.
"He put together what I thought was a flawless campaign," said former Alexandria Mayor Kerry Donley, who also served as chairman of the Democratic Party of Virginia. "He was able to get his message out through the mail, through radio, through television and he was able to get the kind of endorsements that are needed to be successful in not just a primary but in a general election campaign."
THE RACE featured some of the biggest names in Northern Virginia politics, including state Sen. Adam Ebbin (D-30), who won six precincts, Alexandria Mayor Bill Euille, who won two precincts and former Urban League of Northern Virginia president Lavern Chatman, who won three precincts. Beyer's ties to money and power ended up discouraging several candidates who dropped out of the race after determining they couldn't win.
"My polling showed that it was a very narrow path to victory," said Del. Charniele Herring (D-46). "And I think that tonight's election results basically reflect what my polling was showing as far as how strong a candidate Don Beyer is."
Beyer's campaign featured solid Democratic issues, including support for gun safety measures and a progressive carbon tax. On the campaign trail, he talked about working against income inequality and fighting for government workers who live in the region. Now he heads into the fall campaign with a set of issues to wage a campaign against Republican Micah Edmond, Libertarian Jeffrey Carson and independent Gwendolyn Beck.
"He campaigned hard." said Lee District Supervisor Jeff McKay, who initially endorsed Del Mark Sickles (D-43) then stayed out of the race. "He had the credentials to win, and I think he'll en up being a great congressman."