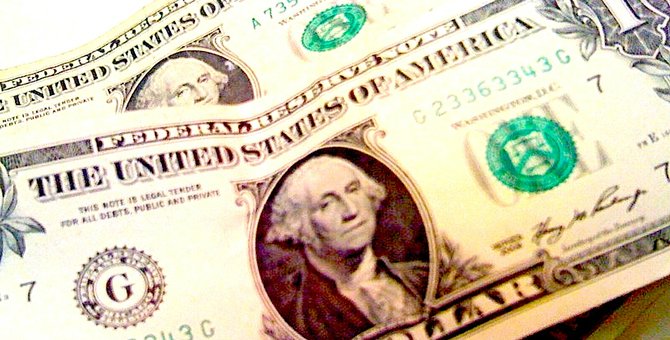 Moran's Top Contributors
Mantech International: $202,615
PMA Group: $180,700
Boeing: $155,500
Leidos: $114,270
Lockheed Martin: $101,830
Northrop Grumman: $100,406
National Association of Realtors: $99,650
International Brotherhood of Electrical Workers: $99,000
Ultra Electronics Prologic: $96,134
National Active and Retired Federal Employees Association: $91,500
Progency Systems: 89,600
General Dynamics: $80,600
BriarTek: $79,784
Automotive Free International Trade PAC: $70,000
Raytheon: $66,250
BAE Systems: $66,000
Mark Winkler Company: $62,250
Deloitte: $62,000
Patton Boggs: $60,700
Fried Companies: $56,400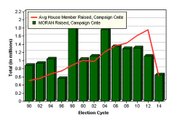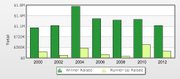 One of the first things that happened after U.S. Rep. Jim Moran (D-8) announced he would not be running for reelection this year was that he cancelled a fundraising event. The fundraiser, scheduled for Jan. 24 at the Art and Soul Restaurant on Capitol Hill. Ostensibly it was to raise money for his reelection campaign, a lunch with suggested contributions ranging from $500 to $2,500. But after the congressman announced he would not be seeking a 13th term in the House of Representatives, the event was canceled.
Across the 8th congressional district, it's the end of an era. For more than two decades, Moran has led a financial juggernaut. During his career in Congress, according to campaign-finance data compiled by the Center for Responsive Politics, Moran raised $14.8 million and spent $13.8 million. Donors included leaders in real estate, the military-industrial complex, lobbyists and information technology. For most of his time in Congress, Moran raised more than the average member of Congress for what was essentially a safe Democratic seat with marginal opposition. Through a spokesman, Moran declined to be interviewed for this story.
"There's no doubt that money plays far too great an influence in politics at all levels, and we in Virginia are learning that perhaps more painfully than people in other states these days," said Stephen Farnsworth, political professor at the University of Mary Washington. "But politicians receive money from people who want to stay on their good side, and it is unilateral disarmament for an incumbent to refuse to take money from people who want to give it to them."
Last week, federal prosecutors indicted former Republican Gov. Bob McDonnell with public corruption charges that he and his wife accepted lavish gifts from the CEO of a dietary supplement maker in exchange for promoting his company. McDonnell's defense is that he did nothing wrong, and that politicians often work on behalf of their political supporters. Before the system of congressional earmarks was ended, members of Congress would frequently seek earmarks for campaign contributors.
"It's kind of like the chicken and egg," said Geoff Skelley, analyst with the University of Virginia Center for Politics. "Do you promise them certain things and then they give you money or do they come to you once they realize you are an established force working for them? I think it's probably a little of both."
CRITICS OF MORAN'S fundraising efforts point to Moran's support for the PMA Group, the now shuttered Arlington lobbying firm whose offices were raided by the FBI in November 2008 as part of an investigation into a "pay to play" scheme. The group's founder, Paul Magliocchetti, pleaded guilty to making hundreds of thousands of dollars in illegal campaign contributions through "straw donors," although the House ethics committee cleared Moran of wrongdoing. Republicans tried to use the scandal against Moran.
"Jim Moran has engaged in a career of pay to play," said Republican Patrick Murray, who ran against Moran twice. "He gave taxpayer dollars to institutions or companies or people and then got campaign contributions in return."
In 2011, conservative author Peter Schweizer wrote a book titled "Throw Them All Out" that argued members of Congress engaged in insider trading. The book included an allegation that Moran dumped shares in dozens of companies the day after a closed-door meeting with Treasury Secretery Hank Paulston on Sept. 16, 2008. Along with many of the other members of Congress featured in the book, Moran says Schweizer got his facts wrong.
"I was never at this meeting where supposedly insider information was disclosed," Moran said during a 2012 debate with Murray.
ELECTION CYCLE after election cycle, Moran raised massive amounts of cash —swamping the competition. In the 2008 cycle, for example, Moran raised $1.3 million. Republican Mark Ellmore raised about $57,000. Ellmore now says the Republican Party abandoned him, adding that he might have been able to capture more than 30 percent of the vote if leaders in his party were willing to spend a little more money supporting him and his candidacy.
"You know going in what the challenge is, and you know that you are not going to have the resources to get your message out," said Ellmore. "So we were just dead in the water because we had no chance to win at all, and we knew that going in."
Moran's campaign-finance reports show he raised most of his money from what Dwight Eisenhower called the military-industrial complex, businesses that rely on contracts from the Department of Defense. The list includes some of the heaviest hitters in the industry, including Boeing, Lockheed Martin, Northrop Grumman, General Dynamics and Raytheon. As one of the senior members of the House Appropriations Committee, Moran had a reputation of working for these business interests, many of which are located in his congressional district.
"It's not necessarily quid pro quo," said Skelley. "By generally supporting the defense industry, he's gotten their backing in elections and received support from them."