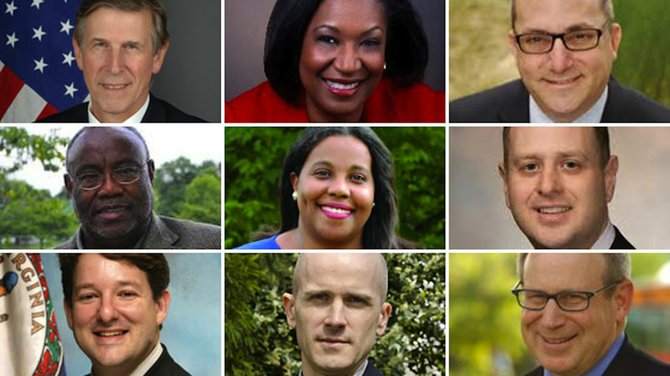 Nine Candidates
Former Lt. Gov. Don Beyer
Former CEO of the Urban League of Northern Virginia Lavern Chatman
State Sen. Adam Ebbin (D-30)
Alexandria Mayor Bill Euille
Del. Charniele Herring (D-46)
Del. Patrick Hope (D-47)
Del. Alfonso Lopez (D-49)
Former Navy Pilot Bruce Shuttleworth
Del. Mark Sickles (D-43)
It's been three weeks since longtime U.S. Rep. Jim Moran (D-8) announced that he would not be seeking a 13th term in Congress, opening up an epic primary fight that is now starting to take shape. Nine candidates have announced their intention to run in the June primary, setting the stage for the most expensive primary fights in recent memory.
"The winner is going to be spending half a million or more," said Christopher Newport University professor Quentin Kidd. "And then if it goes on paid media, then we're going to be talking about a million dollars or so in a primary."
The 8th Congressional District has about 360,000 active voters, according to statistics from the Virginia Board of Elections. If about 20 percent of the voters participate in the Democratic primary, that would mean turnout would be in the neighborhood of 72,000 voters. In an eight-person race, that means a winner could emerge with as little as 15 percent or 20 percent of the vote.
"All you need to win is a plurality," said Arlington registrar Linda Lindberg. "You could win on 14,000 or 15,000 votes or less even if you had several highly popular candidates duking it out."
University of Virginia Center for Politics analyst Geoff Skelley says former Lt. Gov. Don Beyer begins the race with an advantage none of the other candidates have — name recognition. Not only did he serve two terms as lieutenant governor, but he also owns a car dealership that gives him a kind of familiarity that most politicians don't have. Although he successfully won two statewide elections, Beyer hasn't been on the ballot since he lost the race for governor to Republican Jim Gilmore in 1997.
"Beyer has probably got the most money and the most resources of anyone," said Skelley. "But with this many candidates on the field, I think it's difficult to say that he is absolutely the frontrunner."
George Mason University professor Toni-Michelle Travis says Beyer hasn't been on the ballot since 1997, when he waged on unsuccessful campaign for governor. Since then he's been more associated with his Volvo dealership than Virginia politics.
"Having spent years in Chicago, I would raise the question: And what have you done for me lately? And I'm not sure he can connect in the way he would like to connect with the voters."
The district includes Arlington, Alexandria, Falls Church and parts of Fairfax County -- a solidly Democratic area where President Obama won with 68 percent of the vote in 2012. That means the stakes are high for the June primary, which will likely select the next member of Congress from the district.