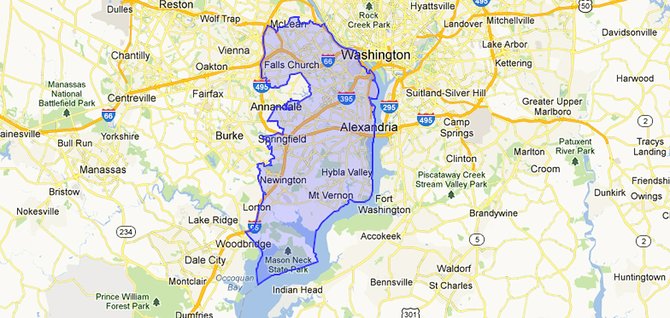 Should American schools share national standards? That's a question that divides the 10 Democrats seeking to replace longtime U.S. Rep. Jim Moran (D-8), who is retiring after 24 years in the House of Representatives. During a recent candidates forum, the Democrats were asked if they support the Common Core State Standards Initiative, two candidates said they disagreed and eight candidates said they agreed.
"One of the key constituencies that are likely to turn out in a primary are educators, and there are some teachers opposed to Common Core," said Stephen Farnsworth, professor at the University of Mary Washington. "This is a chance to connect with that segment of a very likely to participate part of the Democratic primary electorate."
The Common Core State Standards Initiative outlines what students should know in English and math from Kindergarten through high school. The standards were created by the National Governors Association and the Council of Chief State School Officers along with Achieve, a Washington-based nonprofit organization. Although 45 states have signed on, Virginia joined Alaska, Nebraska and Texas in choosing not to adopt the standards. Last month, Indiana un-adopted them, and now similar repeal efforts are underway in several other states.
"I can't say that I would vote to require it for the entire country," said state Sen. Adam Ebbin (D-30). "It works well for some areas, but in Virginia we seem to be doing quite well without it."
AFTER CONSIDERING a plan known as the Common Core of Learning, Virginia education officials created a system known as the Standards of Learning in January 2002. Three years later, the Virginia Department of Education approved SOLs for math, science, English, history and social science. Unless a school meets the targets for the percent of students who are able to pass the SOL tests, schools can lose accreditation. Currently, the department is denying accreditation to only six schools in Virginia, one of which is in the 8th Congressional District — Jefferson-Houston School in Alexandria.
"I don't have enormous amount of respect for the SOL system. There's way too much teaching to the test," said former Lt. Gov. Don Beyer, who was the presiding officer of the state Senate when the original system was created. "Yes I respect Virginia's right to do its own thing, but I think it makes much more sense to be part of a national effort that's been very vetted by teachers and parents and everybody else."
When asked if they support Common Core during a recent debate hosted by the NAACP, two candidates said they opposed the national standards — Ebbin and Alexandria Mayor Bill Euille. When asked about their lack of support for Common Core, both Ebbin and Euille said they believed the current system was working fine.
"It's an evaluation tool that works, and we don't need to move to do something else," said Euille. "But if the federal government was after standardizing it nationally I would support it."
WHEN ASKED about their support for federal standards, candidates gave a variety of perspectives. Arlington Del. Patrick Hope (D-47) said he supported the concept of optional federal standards, which he said he would support if elected. But he also said he approved of the decision by the Virginia Department of Education to opt out of the program.
"If you are a member of Congress, you're not just a delegate anymore. If you're voting for the state you are voting for the nation," said Hope. "So I said yes because that is the position nationally — give states the power to decide."
Several of the candidates expressed frustration with the current system, which they say is failing students across Virginia.
"We've got to try something or the kids lose out, and everybody will be in private schools," said Lavern Chatman, former president of the Urban League of Northern Virginia. "We've got to do something different, that's going to change this situation."
The debate over national standards is a vexing one for many candidates, who tried to walk a line between supporting rigorous standards while opposing a system that encourages teaching to the test. Many candidates tried to couch their support for Common Core somewhere in between.
"In general, I'm a proponent of hiring good people and letting them have more subjective power," said former Navy pilot Bruce Shuttleworth. "But I absolutely get the other side, the side I took quite frankly, which is to have consistent measurable statistics."